Are you unknowingly financing slave labour?
It is a confronting reality that this present day, men, women, and children all over the world continue to be victims of modern slavery. They are bought and sold in public markets, married against their will, made to work under the pretext of "marriage", forced to work in factories, on boats or out in the fields with a promise of pay that is often withheld, all while under threats of violence.
They are made to work in homes, on farms, and in construction. Their labour is forced using coercion and threats. Yet they produce the food we eat and the clothes we wear. The metals and minerals we use, have been extracted from mines using children, women and men, who have no choice. Our cars, cosmetics and electronics are just some of the products that are produced by people forced to work.
This is modern slavery.
It is prevalent and penetrates supply chains across the globe. In 2017, Walk Free and the International Labour Organization (ILO), together with the International Organization for Migration (IOM), developed the Global Estimates of Modern Slavery, which provides the best available data and information about the scale and regional distribution of modern slavery.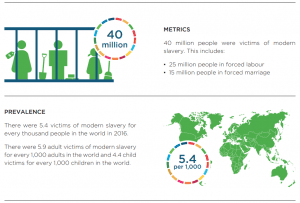 Source: International Labour Organization (ILO) & Walk Free (2017) Global Estimates of Modern Slavery
So what does modern slavery look like in numbers?
According to the data used in this report, on any given day in 2016:
3 million people were victims of modern slavery including 25 million in forced labour and 15 million in forced marriage
Women and girls accounted for 71% of modern slavery victims
One in four victims of modern slavery were children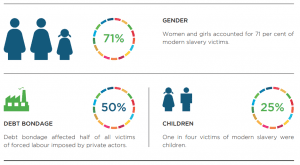 Source: International Labour Organization (ILO) & Walk Free (2017) Global Estimates of Modern Slavery
How are we tackling modern slavery?
In Australia, the Commonwealth Modern Slavery Act 2018 entered into force on 1 January 2019. The Act established a national Modern Slavery Reporting Requirement, requiring large businesses and other entities in the Australian market (annual consolidated revenue of at least AUD$100 million), to provide a statement on their modern slavery risks.
These statements must set out the reporting entity's actions to assess and address modern slavery risks in their global operations and supply chains. The Australian Government publishes these statements through an online central register. You can search this register for statements from large companies such as Rio Tinto, Woolworths, Coles and Wesfarmers.
Bringing modern slavery to the attention of investors means that we can consciously support companies who are leading the way and trying to eradicate forced labour in their supply chains. On the flip side, we can use our voice and our money to let companies know they need to do better.
"We must mobilise and act now. On the financial front, we must adopt a crisis footing: we must act before it is too late… Financial sector leaders must work not just to address modern slavery and human trafficking at the margins, but also by rethinking their business models to address the root causes and drivers – including financial exclusion."
Professor Muhammad Yunus, Co-Convenor of the Financial Sector Commission on Modern Slavery and Human Trafficking
The financial sector has a unique role to play in investing in and fostering business practices that help to end modern slavery and human trafficking. Finance is a lever by which the entire global economy can be moved.
Does reporting on modern slavery make a difference?
A report by Walk Free looks at the modern slavery statements of UK asset managers with worrying results. The UK Modern Slavery Act 2015 has been in place for over five years, but in 2020 only 27% of the managers report conducting some form of due diligence on human rights in their portfolios, with only 15% reporting engagement with investee companies — probably the best lever most investors have to effect change. Even more troubling is that despite the largest asset managers being more likely to publish a modern slavery statement, they are half as likely to disclose due diligence on modern slavery in their portfolios.
While disclosure provides one view of finance industry action, a separate report completed for the UK's Independent Anti-Slavery Commissioner suggests the problems run far deeper. The report found that 43% of directors and senior managers did not have or did not know if they had a policy on modern slavery. Extending to practice, only 28% of respondents believe that modern slavery is factored into investment decisions. It's no wonder when 71% said they had never received training and 78% felt they needed it.
What does this mean for your investments?
Fortunately, there are many tools and frameworks that the finance industry can use to drive effective action. The Agenda Action for the finance sector outlines a four part framework for action:
Monitor and report
Detect and disrupt
Invest and engage
Empower and support
As a specialist in ethical and socially responsible investing, you can feel confident that I'll be able to discuss human rights issues such as modern slavery. You can be comfortable knowing that I will help you find investments that have human rights at the forefront.
Want to know more?
Speak to me about how responsible funds may work in conjunction with your overall financial plan.
IMPORTANT; This information is general in nature only it does not take into account your individual circumstances. We recommend that you seek professional advice before making any investment decision.
Please call 08 8363 8810 or email pgarner@novowealth.com.au to discuss.
All the best
Paul Garner CFP®
Certified Responsible Investment Financial Adviser
This article was written in collaboration with Paul Garner of Novo Wealth and Alexandra Brown of Invest with Ethics