This year for Ethical Investment Week, we held a 7-Day Challenge with simple actions you can take to ensure your money is being used to support a positive and sustainable future.
The Ethical Advisers' Co-op hosts events each year for Ethical Investment Week (EIW). The Co-op is a nation-wide group of financial advisers who specialise in ethical investment advice and are experts in matching your portfolio with your values. Past events include movie nights, webinars, tree planting and presentations with exciting guest speakers.
One of the main goals of EIW is to raise awareness about ethical investing; matching your portfolio to your own values and using your money to create positive change. By investing in companies that have good environmental, social and governance practices, and avoiding companies and industries that cause harm, you can use your super and investments to help create a sustainable future.
Check out the challenges for each day and reach out if you have any questions.
Day 1
The first challenge is to check out how your super and investments stack up by visiting the Ethical Advisers' Co-op leaf ratings website. The Co-op has rated both superannuation and managed investment funds based on how ethical and sustainable they are.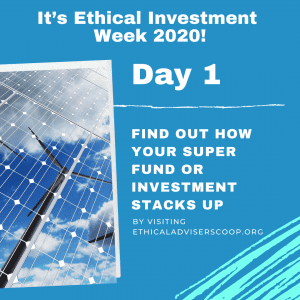 What are the Ethical Fund Ratings? Superannuation and managed funds that are making an effort to invest in more environmentally sustainable, ethical and socially responsible investments are being rated by the Co-op using a green leaf system. For example, both Future Super and Verve Super lead the pack of rated super funds, with no companies of concern in their investment portfolios and a strong commitment to transparency and disclosure. They both have a rating of 4.5 green leaves.
Day 2
Contact your super fund or companies that you invest in and ask them what they are doing about environmental and social issues.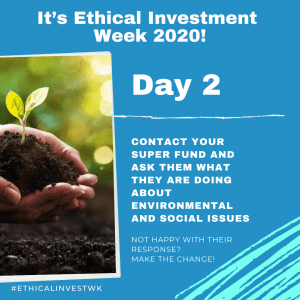 If you're not happy with the response, speak to your certified financial adviser to see if changing funds is the right decision for you. Super funds can vary widely in terms of how ethical and sustainable they are. Check out the Co-op's Ethical Fund Ratings website to see if your super fund has been rated yet.
The Ethical Fund Ratings website is designed to help you understand the differences between funds, and which ones might be a good match for your personal ethical values. The ratings do not include financial information about the funds, such as investment performance or fees. The funds have been reviewed and rated by advisers that are part of the Co-op, including myself, and based on each funds' ethics only. This includes things like the fund's environmental and social credentials including the underlying investments, their research and screening methods, and their voting records and engagement on important issues.
Day 3
Is your bank financing climate damaging fossil fuels? Many of us may be unknowingly supporting the fossil fuel industry through our financial institutions. See which banks currently fund or support the fossil fuel industry and speak to your financial adviser to see if changing banks is right for you.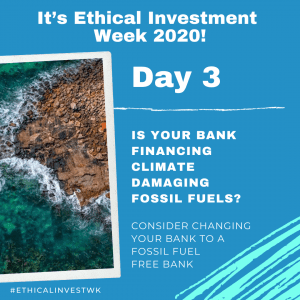 Market Forces are a passionate group of advocates who believe that custodians of our money, such as banks, super funds and governments, should be helping the environment rather than causing damage. They create campaigns to hold these institutions accountable and raise awareness for what is happening with your money. They provide numerous resources to help you get involved and make a difference.
Day 4
Are your friends missing out on the ethical and responsible investment movement? Encourage and tag a friend to join the revolution!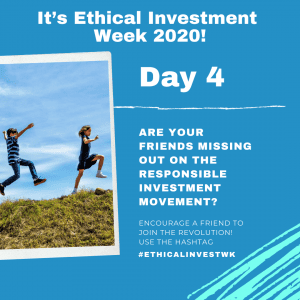 For this challenge, we created posts on social media and asked you to tag someone who might be interested in investing responsibly. If you haven't already, head to Novo Wealth's Facebook page and Like us to keep updated on ethical investing and sustainability issues. You can also tag your friend on this post for Day 4.
Day 5
It's time to make your voice heard! Contact a federal, local or state government member to get them involved in alternative energy and protection of the environment.
Each year, the Australian government spends billions of dollars of your money on programs that help more coal, gas and oil to be extracted and burned. Market Forces estimates that federal tax-based fossil fuel subsidies cost over $12 billion a year. This includes subsidies that support both the production and use of fossil fuels.
Market Forces have created an example of a letter you can write to Treasurer Josh Frydenberg, Finance Minister Mathias Cormann, and Assistant Treasurer Michael Sukkar, asking them to put an end to tax-based fossil fuel subsidies.
Day 6
Join a not-for-profit group and take action on these issues!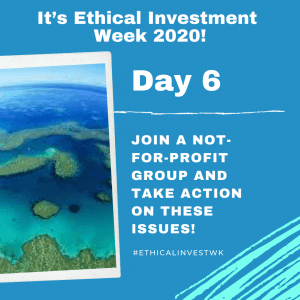 There are many organisations that focus on creating positive change around environmental and social issues. Pick one to support and become an advocate for people and the planet. If you like, you can share a link to your favourite issue-focused not-for-profit here.
On day six of the challenge, was a free event hosted by the War on Waste's and Fight for Planet A's Craig Reucassel. In this session called "Saving Planet A with your Super", Craig was joined by a range of guests who helped unpack the role your super can play in creating a better world, and the simple steps you can take to align your money with your values. Check out the replay!
Day 7
For the final day of #EIW2020, we recommended talking to an ethical adviser about reinvesting your portfolio into more ethical investments.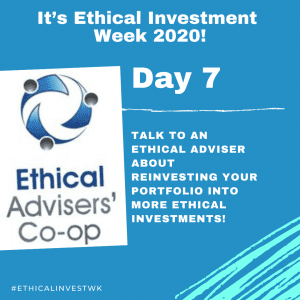 As a member, and on the Board, of the Ethical Advisers' Co-op, I am part of a group of leading financial experts who specialise in providing ethical investment advice. You can find out a bit more about the Co-op and me here.
Want to know more?
Speak to me about how responsible funds may work in conjunction with your overall financial plan.
IMPORTANT; This information is general in nature only it does not take into account your individual circumstances. We recommend that you seek professional advice before making any investment decision.
Please call 08 8363 8810 or email pgarner@novowealth.com.au to discuss.
All the best
Paul Garner CFP®
Certified Responsible Investment Financial Adviser
This article was written in collaboration with Paul Garner of Novo Wealth and Alexandra Brown of Invest with Ethics